The Chang Family tradition began over five generations ago, when culinary secrets were passed from father to sons.
Duck Chang started his journey at the age of thirteen, as an apprentice to his father at the family restaurant in Peking, China. Since then, Duck Chang and his family have established several other restaurants in Hong Kong Thailand and The United States. Duck Chang was the Chief Banquet Chef for the King of Thailand before his arrival to the U.S. in 1970. During the Nixon Administration, Duck Chang was tasked with preparing the banquet meal to then Secretary of State, Henry Kissenger. An important meal to introduce Kissenger to authentic Chinese Cusine before his historic trip to open up new relationships with China. In the next five years, Duck Chang would go on to established his own restaurant in Annandale, Virginia in 1975. During the course of his illustrious career, Duck Chang has served delicious meals and Peking Ducks to a wide variety of celebrities and dignitaries. In 1982, Duck Chang opened another restaurant called
Peking Duck Restaurant
located in Alexandria, Virginia. Like father like son, Duck Chang Jr. also prepares great meals and Peking Ducks to carry on the great family tradition.
Peter Chang, son of Duck Chang Sr. and Brother of Duck Chang Jr.
A dallop of sweet hoisin sauce, a dusting of scallions, a generous hunk or three of rich, tender meat, and sweet Jesus, that cracklin' skin.... yeah, we're gonna need more pancakes.
Esquire
Chef Peter Chang slicing Peking Duck
Best Hidden Gem Restaurants in Fairfax County
fxva.com
December 2021
Winner of "The Washingtonian Award" for ten consecutive years and voted to have The best Peking Duck around.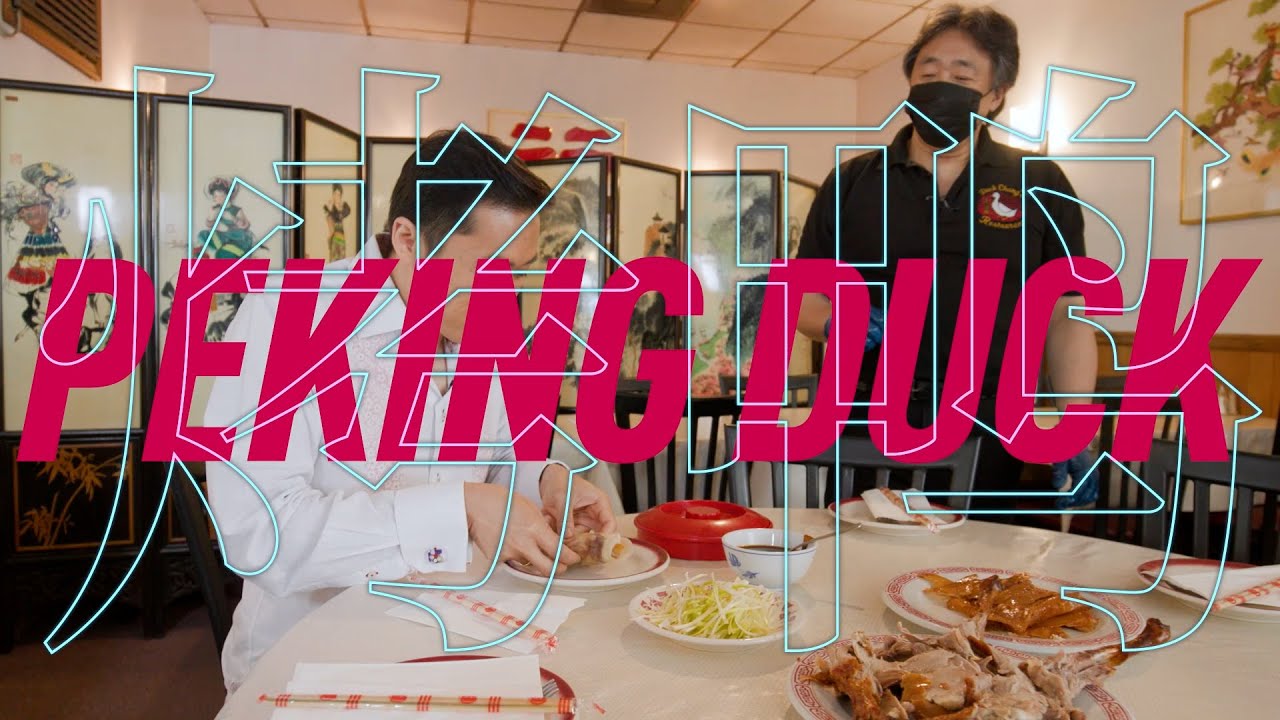 Video can't be displayed
This video is not available.
"It's every component, you start with an absoultely fabulous skin..This is where it is at..."
CGTN America Interview. July 31, 2021
Tso'l Food Series
"...still lacquered perfection" "The skin had not steamed on itself. It was still shattering crisp, playing the perfect foil to that moist duck meat."
The Washington Post October 9, 2020
In 2015 - 2016, Fairfax County Health Department recognized Duck Chang's Restaurant with an Active Managerial Control Award.
There were
only 15 individuals
who received this Award in a pilot program during a 10 months inspection period
in all of Fairfax County.
Duck Chang's is the only Non-Chained Independent Operated Business that received this recognition.
Peking Duck Restaurant has been named one of the best restaurants in the country by
ZAGAT
in 2013 - 2015! Best rating over all other Chinese Restaurant! From 2013 -2015, each edition features over 1,822 restaurants in 46 major markets and Peking Duck Restaurant is rated highest and the best in Northern VA
!
Duck Chang's was the only Chinese restaurant selected by Esquire Magazine, March 2005 amongst a few elite of thirty-four restaurants from across the Nation as "The Best Bites of Food in the U.S.A"
Our Peking Duck was choosen as meal of choice and is part of what Esquire Magazine Dubbed "Edible moments of ecstasy from coast to coast."
When Duck Chang Sr. passed away in 2005, his sons, Duck Chang Jr. and Peter Chang
(NOT the other newcomer, that's been trying to cause brand confusion. Even naming a restuarant after Mrs. Changs known affectionate nickname since 1975.)
carried on with the family tradition and legacies that were passed from father to sons.
Did you know that Duck Chang's and Peking Duck Restaurant
originiated and coined the name
"BANG BANG"
for our entrees
back in 1990's
? The name that have made a cross over to American restaurants from the States side to the Virgin Islands? Duck Chang's set trends that others follow, from cooking concepts to recipes to names. While others may have copied names, recipes and concepts, nothing will compare to the quality, the flavor and the authentic cuisine of Duck Chang's. Come to Duck Chang's and make us a part of your family's tradition.
Kinlon Chang, son of Peter Chang slicing Peking Duck for takeout.
...
even though that history ought to enrich your experience, it's not why you're here. You're here because no other Chinese restaurant in the area makes food quite like his.
The Washingtonian
Chef Duck Chang Jr. in Wok action.